I've been casually learning Solr in order to easily create a faceted search/retrieval interface for some digital collections with OAI feeds but now I kinda wish I was learning to do that with Microsoft's PivotViewer instead.
I won't do that, at least for now, but I probably won't be able to resist in the near future.
Here's a cool demo of it with some Netflix OData.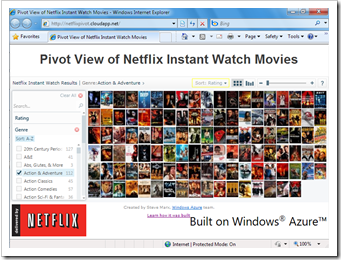 For a description of how it's done, check out this post: Pivot, OData, and Windows Azure: Visual Netflix Browsing.
Adding this follow-up thought the next day: Actually, Pivot would be a really good way to make eBooks and eAudio titles discoverable … all those book covers. Sheet music (first page) would be cool, too.
Oh, the possibilities.
--------------
Related Content: